An App for Perfect Irrigation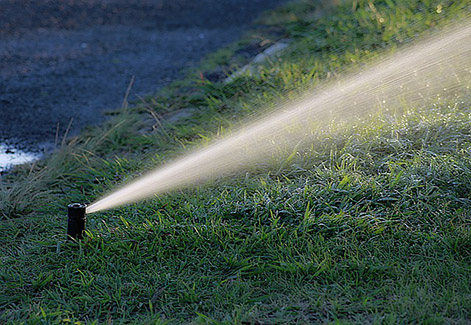 The summer heat is in full swing and, most likely, your lawn is feeling the effects of high temperatures and lack of rainfall. So of course, you're watering your lawn. You want it to look great, but how do you know if you're using the right amount of water?
We all have our own unique circumstances: lawn size, recent rainfall, local weather conditions, and different sprinkler systems. It can be confusing. 
Thankfully, technology is blending lawn irrigation and water conservation, making it easier for us to keep our lawns green and healthy while using the exact right amount of water.
Dr. Guy Fipps at the Texas A&M AgriLife Extension in College Station has designed a website and app called WaterMyYard that gives users an up-to-date, personalized recommendation on how much and how long to water your lawn. 
How Does WaterMyYard Work?
Dr. Fipps said that before he developed the website and app, he knew people were confused by the recommendation to water their lawns in inches; he wanted a more digestible different measurement. Thus, he began work on the website and app.
The WaterMyYard website and app take information about your lawn, soil, rainfall, and reports from 57 local weather data stations around the state to give you a personalized and localized irrigation recommendations. You can opt for either email notifications or text messages sent directly to your smart phone.
What's the Potential for WaterMyYard?
The water savings from using the app are substantial. "With this app, users can conserve 40% to 50% of their water usage," Fipps said. By using the app, the data may show that you may not even need to water your lawn. "Two thirds of the people don't need to irrigate at all," Fipps said, "And most users only need to water once a week." 
When you sign up for the app, you have the option to give either general information or very detailed information about your irrigation system. It asks for detailed information such as the type of sprinkler heads you have, the square footage of your lawn and how far apart your sprinklers are located.
What's the Future of WaterMyYard?
Even though the app was just released a few months ago, a Version 2 will be developed in the fall for release in the spring. Dr. Fipps has received funding to develop a WaterMyLawn irrigation controller, hardware that controls your automatic irrigation system by wirelessly connecting to the app on your phone.
Sponsors of WaterMyLawn including cities, water utilities, and water districts are helping to make the public more aware of the app's potential and the savings it can offer. 
"More and more people are starting to understand that we have a water problem in Texas, Fipps said. "Using this app is great way to start chipping away at that problem."
For more information on how to take care of your lawn, download our Guide To Yard Care.