And The Winner Is...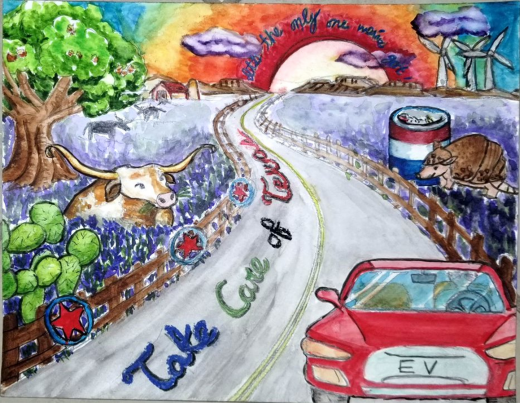 The Texas Commission on Environmental Quality is delighted to announce 4th grader Minchae Kim from Rutledge Elementary in Austin as the grand prize winner of our 2021 Take Care of Texas Kids Art Contest! Minchae will receive a laptop computer, and her teacher will receive an iPad provided by contest sponsor Texas Chemical Council.
We invite you to enjoy all of this year's winning entries. We're sure that you will be just as impressed as we were with the students' creativity, artistry, and interpretations of the Take Care of Texas message.
Over the next few months we'll showcase some of our honorable mention entries on our social media platforms. Remember to like us on Facebook and follow us on Twitter and Instagram to see them all.
Teachers and parents: would your students like to participate the next art contest? Enter your email address and check the box for Kindergarten – 5th Grade Educators so you'll be the first to know about the 2022 Art Contest!
Teacher Resources
If you need free resource materials, use our interactive "How Can You Take Care of Texas" poster or order a printed version to hand out to your class. We also provide free lesson plans and other educational materials on the teacher section of our website. 
For more information, contact us at educate@tceq.texas.gov.