AIR TODAY, GONE TOMORROW – AN AIR INVESTIGATOR INTERVIEW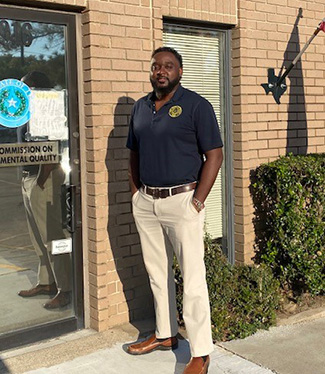 A college education is vital to becoming an air investigator, says TCEQ Air investigator Fredrick Lacy, but a sense of humor doesn't hurt either. On one of his first on-site inspections, Lacy found himself in the ironic position of inspecting a facility staffed by his old college professor. Suddenly, it seemed as if the student had become the master.
Fredrick is one of many investigators at TCEQ who keeps the environment healthy for all of us. We're celebrating Children's Environmental Health Day by speaking with Fredrick and learning more about what he does to protect our air and environment.
What's your job title?
I am an environmental investigator and work leader for the Region 5 Tyler Air program.
What are your job's day-to-day activities?
My day-to-day activities include supervising the work of others, responding to citizens, talking to regulated industry, and reviewing technical reports, to name a few. I also help less experienced investigators with more difficult technical questions. I coordinate schedules and manage multiple air databases to track assignments.  I'm also a member of the TCEQ Emergency Response (ER) and Disaster Response Strike Team (DRST), which comes with additional responsibilities.  
How does what you do protect the air we breathe?
As you know, clean air is part of TCEQ's mission statement and is the basis for what I do daily. Working with industry and holding them accountable to adhere to the federal, state, and local regulations is a huge proponent to keeping the air clean. As the Work Leader, I assign and conduct routine on-site inspections to determine the compliance status of these facilities.  The investigation reports are publicly available and will indicate the compliance status of the facility.  The goal is to ensure conformance with the applicable regulations. Ensuring compliance is key in keeping the air we breathe clean, protecting our natural resources, and protecting the citizens of Texas.  
What's your favorite part of your job?
The variety of the job is my favorite aspect of it. Coming in each day can be an adventure due to not knowing what new surprises await you.  One day you can be conducting an inspection at a refinery and the next day you are at a poultry facility. This job forces you to always keep learning and never get comfortable no matter how long you have been with TCEQ. It can get a little hectic at times with the different projects, meetings, and just the daily demands of the job. I can be sitting in my office reviewing technical reports then things can change in an instant when something unexpected takes priority.    
What is your background and education?
I served in the United States Army for four years as a Nuclear Biological Chemical Resonance Specialist (NBCRS). I have a Bachelor's in Industrial Safety with an emphasis in environmental management and a Master's in Environmental Science.
What kind of person would do well in your job? What would you recommend to someone interested in doing your kind of work?
I get this question quite often. I would say individuals who welcome a challenge, have an inquisitive nature, are not afraid to grow, and have a strong desire to do the work necessary to improve air quality. Education is very important and most individuals in this field of study have, at a minimum, a bachelor's degree. In today's competitive market, I find more and more individuals with a master's degree or even doctorate degrees. I would also recommend technical writing courses to anyone thinking of making this a career choice. It would be huge bonus for anyone wanting to work in this field due to the amount of technical reports we prepare. Developing good people and communication skills are also instrumental in this career choice. This field can be very challenging but is also one of the most rewarding things I have ever done. Knowing that I'm making a difference is its own reward.   
What's the scariest/most memorable thing you've encountered while doing your job?
One of the most memorable things I've encountered was while conducting an inspection at a large facility in our region. This was my first solo on-site inspection at a facility of this size.  Once I entered the facility, I saw approximately 25 people waiting on me.  I was not expecting that many people to be at the inspection and was surprised. I also noticed one my college professors sitting in with the company representative. So, to say the least I was very nervous, but I had a plan. I excused myself and called my Air section manager to come assist.  He came and we proceeded with the inspection. I look back and laugh now but at the time I was extremely nervous. That was a moment I will always remember and grow from.  
What's the one thing you wish all Texans would do to keep the air clean?
One of the best ways to help the air quality in Texas is to limit the amount of time your vehicle idles. I know it seems like a small thing, but it can make a huge difference. The longer your vehicle idles the more air emissions are being released. Minimizing your vehicles idling time will reduce air emissions and save you money by reducing your fuel costs. 
What are the special considerations we should have when it comes to children's health and air quality?
Air quality impact on children's health is a top priority for TCEQ.  The agency provides free e-mail alerts for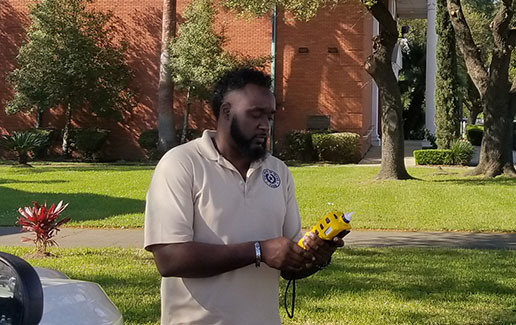 the Today's Texas Air Quality Forecast and Ozone Action Days for several metropolitan areas throughout Texas. This is just one of the tools TCEQ has in place to keep the public informed.  High levels of ozone and related co-pollutants have the potential to have a negative impact on lung function. Children typically spend more time outside and are generally more active than adults. It's better to stay inside on those Ozone Action Days to prevent any respiratory issues.  Knowledge is power, and staying informed is one of the ways to keep the children of our state safe.