Activities for Kids Of All Ages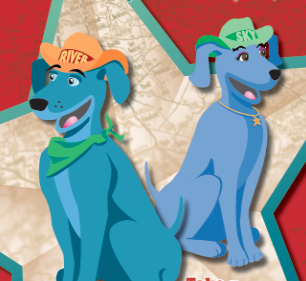 Howdy teachers, parents, and kids! While we're all working through the uncertainties of COVID-19, we want to share some activities and resources for kids while they are at home. These are great ways to keep children of all ages busy at home and engaged in conservation.
(Note: many of the features on our website do NOT work on Microsoft Internet Explorer. For best results, use Chrome, Edge, Safari, Firefox, or another modern browser.)
Savings Calculator
Input aspects of your everyday life to find out how much energy, water, and money your household can save with these tips! Spend some time exploring your own house to count the number of faucets, lightbulbs, fans, and windows you have, which are all opportunities to save.
Make a Difference
This animated and interactive infographic calculates your impact on the environment based on your age. You'll be surprised by how much waste you've created and how much water you've used in just a few years! We follow up each statistic with encouraging ways you can make a positive change.
Share Your Story
This is every Texan's opportunity to toot their own horn with stories about their conservation efforts. Tell us how you save water, conserve energy, and create less waste. Send us your stories and photos of things like your garden, rain barrels, compost pile, creative crafts from reused items, or whatever else you're doing to Take Care of Texas.
TV PSA Campaigns
Need a catchy tune to get stuck in your head to remind you of how you can Take Care of Texas? Over the past few years, we've had several phenomenal Texas musicians record songs for our program that you can learn and sing!
Girl Scouts and Boy Scouts
Find out if your Boy Scouts council or Girl Scouts council already participates in the Take Care of Texas program. Get a start on the patch or pin process with projects at home. If your council or troop is not currently participating, we have detailed instructions on how to get your local group on board.
Texas Environmental Excellence Awards
Kids all over Texas can enter to win a Texas Environmental Excellence Award for their efforts to Take Care of Texas. Learn about the past winners in these videos and find out how you can apply to win too!
Cool Links for Kids
Need more resources for researching topics related to the environment? We've got you covered! Take Care of Texas relies on these sources for our data, so you know they are good for a science project, report, or supplementary materials for a home-education lesson plan.
Interactive Posters
Take Care of Texas posters are available to order for free, but you can get instant access to the same material by checking out our interactive posters page. Explore three topics in detail with these interactive posters: How to Stay Safe in a Flood, How You Can Take Care of Texas, and The Water Cycle.
Infographics
The Take Care of Texas team works hard to break down complex topics into easy-to-read infographics. You can use these infographics to improve the way you save water, reduce waste, and save energy in your home, or use them for inspiration in your own home projects. 
Hot Wire Blog
Take Care of Texas dives deep into a variety of topics like composting, volunteer efforts, and recycling in our blog. We constantly update it with interesting topics that will help inspire your students, and help with research to write their own papers on topics related to the Texas environment.