The 2019 Take Care of Texas Video Contest is Here!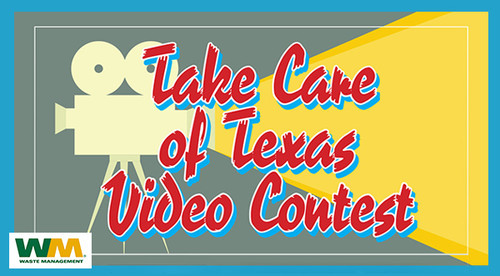 Video Contest Opens Today
The Take Care of Texas Video Contest launches today, September 3. Don't let your 6th - 12th graders miss this fun opportunity to learn about the environment and teach others how to take care of it. To enter, participants create a 30-second video that shows positive ways to keep the air or water clean, save water or energy, or reduce waste. Visit the Take Care of Texas website to learn more.
NEW This Year
Use this brand new video to help students understand the Contest Rules. However, don't forget to review the complete Contest Rules on our website. Videos that don't comply may be disqualified.
Also new this year, check out the sample Reference Sheet. And don't forget to review the Tips for Creating Videos webpage to learn why videos submitted to previous contests were disqualified or lost points.
 
Waste Management of Texas, Inc. is Awarding Exciting Prizes
Scholarships of up to $2,500 for 9th - 12th graders.
GoPro Camera Packages for 6th - 8th graders.
The two first place winners, along with their teacher and parents or guardians, will be invited to travel to the 2020 TCEQ  Environmental Trade Fair and Conference in Austin. TCEQ Commissioners and representatives from Waste Management of  Texas, Inc. will recognize the winners.
 
Spread the Word