What Should I Do With Chemicals at Home?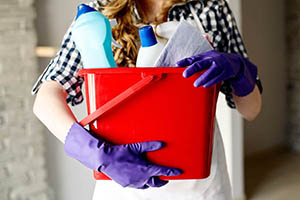 What Products in My Home are Household Hazardous Waste?
HHW is leftover household products that contain chemicals that can present safety concerns if not managed properly. These materials are not required to be handled as hazardous waste when they are generated by a household. HHW can include the following:
corrosive cleaners, such as drain or oven cleaner,
CFLs and other fluorescent light bulbs,
pool chlorine and acid,
fuels, such as gasoline, propane, and diesel,
some types of paints, like oil-based or some anti-mildew latex,
wood stains or varnishes,
pesticides, and
mercury.
Six Easy Ways to Safely Store HHW at Home
1. Keep products in their original containers and make sure labels are readable.
2. Never mix products together. This can be dangerous and even deadly.
3. Store chemicals in a cool, dry place, out of reach of children and pets. Follow the storage instructions on product labels.
4. Store and transport chemicals upright, not on their sides.
5. Ensure chemicals are not leaking from their containers.
6. Never store hazardous products in food containers.
Five Tips to Reduce HHW at Home
1. Buy only what you need to do the job. Buying chemicals in bulk may not save you money if you do not use all of them.
2. Apply pesticides according to the label's directions and only use the recommended amount.
3. Consider buying a safer, less toxic product.
4. Check the EPA's Safer Choice program to find safer household products.
5. Make your own cleaning products, such as glass cleaner and furniture polish, from nonhazardous materials.
How Should I Get Rid of My HHW?
HHW can often be placed in your regular trash. However, you can do your part by offering it for reuse or disposing of it in a more protective manner.
Read the product labels for disposal directions.
Pass on your chemicals or paint to friends, relatives, or neighbors. Be sure they are in good condition and have not expired.
Never pour HHW down the drain, on the ground, or into storm sewers as these chemicals can damage the environment.
Triple rinse any plastic containers that held chemicals or cleaners before recycling them.
For additional resources for hard to dispose of items, check GI-288: What Do I Do With It Now?
Where Can I Find Facilities to Dispose of My HHW?
Some communities have HHW drop-off facilities or host collection events. If these options are available to you, this is a great way to dispose of your HHW. TCEQ maintains a list of HHW disposal options. Visit the website of your closest facility, or contact the staff, to find out what chemicals you can dropoff. If you can't find any HHW disposal facilities in your county, city, or region, call your local government to find out whether a collection event may be scheduled in your area. If you try these options and still can't find a facility, try the Earth911 recycling search to find disposal and recycling options for HHW, as well as other materials.
How Should I Get Rid of Paint?
Paint can last for years when stored properly. Simply cover the opening of the paint can with plastic wrap and then put the lid on securely. If you have any empty or nearly empty paint cans, remove their lids and allow them to dry for several days. Once dry, they can be thrown in the trash.
What About Products that Contain Mercury?
Mercury-containing household products are often accepted by HHW collection programs, however here are some additional options.
How Should I Dispose of Used Oil and Oil Filters?
You can take your used oil and filters to used oil collection centers and some auto parts stores. Used oil cannot go into a landfill and it is accepted by many HHW collection programs. Used oil can be recycled to make numerous petroleum products. Check Earth911 to find facilities near you.
How Should I Get Rid of My Smoke Detector?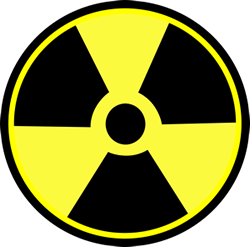 Certain types of smoke detectors contain a very small amount of radioactive material; this small amount poses no threat to human health. You can find out which type of detector you have by looking for this label on the back of the detector. If it appears that the label is missing or may have been destroyed, treat the smoke detector as if it contains radiation. Some manufacturers and local governments will accept detectors for disposal. Learn more about smoke detector disposal on the United States Postal Service website.
What Should I Do with Syringes?
For your safety and the safety of custodial and sanitation workers, dispose of needles with care. Put needles in a metal or thick, hard plastic container and label and seal the container before placing it in the trash. Don't use see-through or thin plastic. Needles should never be put in the recycling bin and loose needles should never be put in the trash. Learn more about disposing of needles.
I Still Have Questions
Check the EPA and TCEQ  websites for more information about HHW.