Three Summer Boating Tips for Keeping the Water Clean
Summer is a popular time for boating. There are many surprising items that can pollute our waterways, causing environmental harm and making them unenjoyable for you and your fellow Texans. Learn how you can protect your favorite spot from potential pollutants, so that you can enjoy it all summer long!
Conquer Litter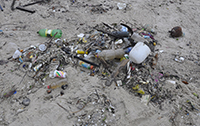 Anyone can do their part to keep our water free from litter. Be sure to properly dispose of your waste. When trash and litter reach the water, they can affect the water quality, which can be harmful to other people, plants, and aquatic life. Bring a trash bag and take your waste home with you. Help keep Texas clean for all to enjoy.
The Dangers of Boat Sewage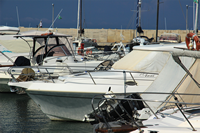 Boat sewage can present risks to human health and the environment. Many Texas waterways are a source for public drinking water or contact recreation, such as swimming. Boat sewage should never be discharged into waterways, as it can introduce disease-causing microorganisms into the water, create an imbalance in the ecosystem, and cause problems for aquatic life.
The TCEQ's Clean Water Certification Program helps improve water quality in Texas by requiring owners of boats with marine sanitation devices and owners of pump-out stations to certify that their MSD or pump-out station is operating properly.
Why Invasive Species Matter to You
Invasive zebra mussels have infested many lakes across Texas, and could take over all freshwater sources if they are not stopped. This invasive species harms native fish and mussels, as well as damages boat hulls and reduces the performance of boating equipment. Check out how the Working Dogs for Conservation are doing their part to help stop the spread of zebra mussels in Texas waterways. 
You can do your part to save our lakes by making sure you clean, drain, and dry your boat, trailer, and gear every time you leave a body of water. Never transport water, animals, or plants from one water body to another. Learn how you can take action.
The Marina Association of Texas offers more clean boating tips to help you protect the Texas environment when you're out on the water.