Texas Emissions Reduction Plan (TERP) Grant programs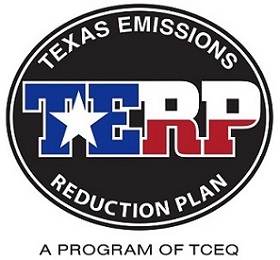 ­
TERP is a program of the TCEQ that provides grants to reduce nitrogen oxides (NOX) emissions from mobile sources, supports programs to encourage the use of alternative fuels for transportation in  Texas, and helps to keep the air in Texas clean. After a brief period of unavailability, several TERP grants will be reopened for fiscal year 2020. Read on to learn more about the TERP program, and what sort of grants will soon be available.
How does TERP reduce NOX emissions from Mobile Sources?
TERP provides financial incentives for the early retirement of heavy-duty vehicles and equipment (particularly those with large diesel engines) that have been operating in Texas:
Retired vehicles and equipment are rendered permanently inoperable.

Retired vehicles and equipment are replaced with newer, cleaner models.

Grantees commit to operating newer, cleaner models in designated areas of Texas.
TERP and the State Implementation Plan (SIP)
Since 2001, emissions reductions from the TERP have been included in certain SIP revisions to help demonstrate attainment and progress toward attainment of the NAAQS under the FCAA. TERP programs continue to support attainment demonstrations in SIP revisions as additional measures called "Weight of Evidence," which includes activities that are expected to further reduce ozone levels in the nonattainment areas.
TERP Program Descriptions:
The Rebate Grants

program is a simplified first-come, first-

served grant program to upgrade or replace 

diesel

 heavy-duty vehicles and/or non-road equipment. Applicants will compete for $10 million

; dates have yet to be determined.
Receive Updates About TERP Grants
As dates and other details about many of these programs are not yet available, interested parties should sign up for the mailing list to receive the latest updates and get a jump on applying for grants.
Additional information can also be found on the Upcoming TERP Meetings and Workshops page, including a webinars about LDPLIP and TNGVGP.