Stay Cool When It's Hot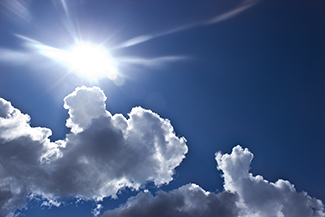 In Texas, trying to keep your home cool when it's hot outside can be a challenge. Our warmer weather means that air conditioning accounts for a higher portion of our homes' energy use, compared to other areas of the United States. Luckily, there are simple, inexpensive actions that can help you maintain a comfortable indoor temperature, while saving energy and money during summer months.
Tips to Save on Summer Air Conditioning Costs
Maintain Your Air Conditioner
Maintaining your air conditioner can help improve your comfort and the efficiency of your air conditioner while prolonging the life of your unit. Routinely replace or clean your air filters. This is the quickest way to save on home cooling. Vacuum registers regularly to remove any dust buildup. Ensure that furniture and other objects are not blocking the airflow through your registers.
Adjust Your Thermostat
Install and set a programmable thermostat, it could help you save up to ten percent on heating and cooling costs a year. Or simply change your existing temperature settings to be as high as comfortably possible in the summer. Also, adjust your thermostat to keep your home warmer than normal when you're away.
Use Fans to Stay Cool
Running a bathroom fan when taking a shower and a range hood fan when cooking will help remove heat and humidity from your home. Make sure bathroom and kitchen fans are vented to the outside, not just the attic. Ceiling fans will allow you to raise the thermostat setting about four degrees without impacting your comfort. Remember, ceiling fans cool people, not rooms, so turn off your fan when you leave the room.
Insulate and Seal Your Home
Insulate your attic and walls, and seal cracks and openings to prevent warm air from leaking into your home. Add caulk or weather stripping to seal air leaks around leaky doors and windows. Also, insulate and seal air ducts—air loss through ducts accounts for about 30 percent of a cooling system's energy consumption.
Don't Let Heat Build Up
Appliances and lighting add heat to your home. Whip up your favorite dishes outside on your grill instead of heating up your kitchen by cooking inside. Consider running your dishwasher and washing machine during cooler parts of the day. And, install efficient light bulbs, which produce less heat than incandescent bulbs.
Cover Your Windows
Install energy-efficient window coverings that let natural light in, while preventing solar heat gain. Close shades to block out heat, especially on east-and west-facing windows, which admit a lot of heat during the summer. You can leave the shades on south- and north-facing windows open to allow you to take advantage of natural light without letting in much summer heat.