Six Ways to Go Green with Your Pet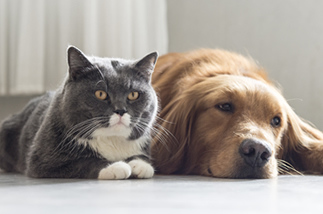 Do you have a furry friend at home? As a proud pet owner, there are many ways you can reduce your environmental impact, while keeping your pet happy and healthy. Here are six easy tips to help you become a green pet owner. 
1. Make the Safer Choice. 
Use eco-friendly products to clean up after your pet. Items with the Safer Choice label contain ingredients that are safer for your family, pets, and the environment. Find products that meet the Safer Choice standard. 
2. Take a walk. 
Instead of driving to the dog park, locate a park or nature trail that is within walking distance. By driving less, you can reduce emissions from your vehicle. You and your dog will get in some extra steps, plus you will save money on gas!
3. Reuse old bedding and towels. 
Use your old towels as rags to clean up your pet's messes or to dry them off after a bath. Old bedding or blankets can make great liners for pet crates or beds. 
4. Pick up pet waste. 
Pet waste can contribute to bacterial pollution in urban watersheds. Whether you are on a walk or in your own backyard, always pick up your pet's waste. Even if you aren't near water, stormwater can carry the waste directly into waterways. Pet waste does not make a good fertilizer for your lawn and will not wash away on its own. 
5. Buy eco-friendly pet toys. 
Next time you head to the store for a new toy, look for one made from recycled rubber or other recycled materials. Items made from recycled content are manufactured with fewer virgin materials. 
6. Donate items for reuse. 
If there are items your pet no longer uses or has grown out of, consider donating them to your local animal shelter to be reused. This keeps items like crates, beds, sheets, towels, and toys out of our landfills and helps other pets in need!
Download our infographic and share these helpful tips with your fellow pet owners!