Save Energy with Employee Engagement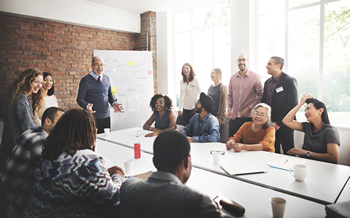 Energy costs can be a large portion of your business' monthly expenses. More than 50 percent of the energy that your office building uses comes from plug loads, lighting, and the heating and cooling system. The actions of employees and building occupants can affect each of these areas, especially if they are doing things like covering vents, changing light bulbs. or adjusting the thermostat. 
Since the people who work in your building have a direct impact on energy consumption, you can recruit them to make your office more energy efficient! A great way to start is by educating, empowering, and engaging your employees. By making your office more energy efficient, you'll be helping the environment and saving money. 
Tips to Engage Employees
Collect Feedback
Ask other employees for energy-saving ideas. They may be able to identify areas of energy waste that they have seen in the building. This could include things like unnecessary lighting, extremely hot or cold areas, or equipment that is rarely used but left running. 
Create a Green Team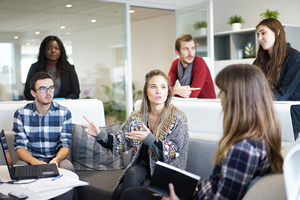 A great way to increase energy efficiency is by establishing an office green team. This group can work to encourage energy-saving practices throughout the office and are a great mechanism for reaching out to other employees. Follow this handy checklist for starting a green team. 
Spread the Word
Get employees involved by identifying any energy-saving actions you are taking in the office. It is especially important to emphasize the benefits of each action. Spread the word about how employees can help save energy through emails, posters, or office memos. 
Host an Event
Take it a step further by hosting an event or training in your office. Organize a program that will educate employees about energy efficiency and what steps your office is taking to be more energy efficient. Examples of events could be an energy fair, brownbag lunch, webinar, or training. 
Office Tips to Share
Turn off lights, fans, and other appliances when not in use. 
Activate computer power management features that automatically put the device into a low-power sleep mode after a designated period of inactivity. 
Use smart power strips to make sure all electronics and appliances have stopped drawing energy when not in use. 
Replace the bulbs in desk lamps with ENERGY STAR qualified bulbs. They will last up to ten times longer and use about 75 percent less energy!
Remember to turn off the lights when you leave, especially at the end of the day. 
Keep air vents clear of paper, files, and office supplies. It takes as much as 25 percent more energy to pump air into the workspace if vents are blocked. 
Share Your Success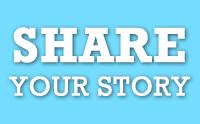 If your office has increased efficiency and saved money, it is time to celebrate! Share your success with the people that made it happen—your employees and building occupants. Let them know what improvements you made and how that has benefitted your organization. This is also a great opportunity to recognize any employees who went above and beyond to help improve energy efficiency in the office and engage others. Don't forget to share your story with us. We want to hear about the great things you are doing to protect the Texas environment!
Encourage your employees, coworkers, and building occupants to take the pledge to Take Care of Texas!