Reducing Roadside Litter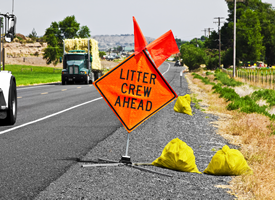 Are you gearing up for a summer road trip with your family or friends? With so many travelers hitting the road, there is an increased potential for roadside litter. Each year, nearly 435 million pieces of visible litter accumulate on Texas roadways! Not only is roadside litter unsightly, it can also negatively impact the environment. You can help keep our roadways looking beautiful by ensuring that all of your waste ends up in the trash can or recycling bin. 
What is Litter? 
Any trash that is not disposed of properly in a trash can is considered to be litter. When it's placed in a trash can, it becomes garbage, but anywhere else, it is litter. These items are not always thought of as litter:  
Cigarette butts – they may be small, but they are still litter!
Apple cores and other food items – even though they will decompose over time, food items should not be thrown into the environment.
Trash that accidentally flies out of a car window or truck bed – littering does not have to be an intentional act.
Microlitter
Items that are less than two square inches are classified as microlitter. Given their size, these items are not normally visible when driving. This includes items like gum, gum wrappers, straws, and cigarette butts. Although it is small, microlitter is a growing problem, making up 71 percent of the total litter on Texas roadways! Even if your item is tiny, it can still have an impact on the environment. 
Avoid Littering Penalites
In Texas, littering is against the law. Yet, one in four Texans admits to littering in the past year! You can be find up to $500 for trash less than or equal to five pounds or five gallons. Repeat offenders can face a fine of up to $2,000 and 180 days in jail. Also, failing to cover your pickup-truck load is against the law and carries a fine of up to $200.
Don't Be a Litterbug
Before you hit the road this summer, do your part to reduce litter by making a plan for managing your waste. 
Keep a litter bag in your car. Hang on to your trash until you find a garbage receptacle or reach your destination. 
Do not throw any trash out of your vehicle windows. If you plan to roll down the windows to get some fresh air, make sure that all trash and loose items inside of the vehicle are secured. 
If you are driving a truck, cover any open loads and don't throw loose trash in the truck bed. This can easily blow out onto the roadway as you are driving. 
Travel with reusable water bottles and consider buying your road trip snacks in bulk. This reduces the risk of individual packages and single-serve containers accidentally becoming roadside litter. 
Don't have a litter bag? Texans can order a free litter bag from the Don't mess with Texas program. 
Report a Litterer
Believe it or not, litterbugs still roam the Texas roadways. When you see litter thrown or flying out of a vehicle on a Texas highway, even if it is unintentional, do your part by reporting it to the Texas Department of Transportation. You'll need basic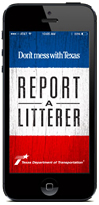 information like the license plate number, make and model of the vehicle, date and time, location, and what was tossed. You can report this information by downloading the Don't mess with Texas Report a Litterer app or visiting the Report a Litterer website. The submission is confidential and the litterer will not find out who submitted the report. TxDOT will send the litterer a Don't mess with Texas litterbag for their vehicle and a letter reminding them to keep trash off of our roads. The litterer will not receive a ticket. 
If you notice litter in your community or on city streets, contact the local city government.