Recycling in Texas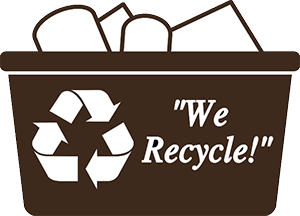 In 2015, Texans recycled about 23 percent of our trash.
Recycling has numerous benefits for our environment and our economy. Making new products with recyclable materials instead of "virgin" raw materials can significantly reduce air emissions and conserve natural resources and energy. Recycling also provides revenue to state and local governments, as well as jobs and wages.
Recycling Study in Texas
All of the information from this article came from a recently published report, Study on the Economic Impacts of Recycling, which the Texas Legislature directed the TCEQ to produce.
The report provides information on the following:
Current recycling efforts
Methods to increase recycling
Job creation from recycling, as well as potential job creation that will result from increased recycling
Infrastructure needs and opportunities for rural and underserved areas
Read the full report on the TCEQ website.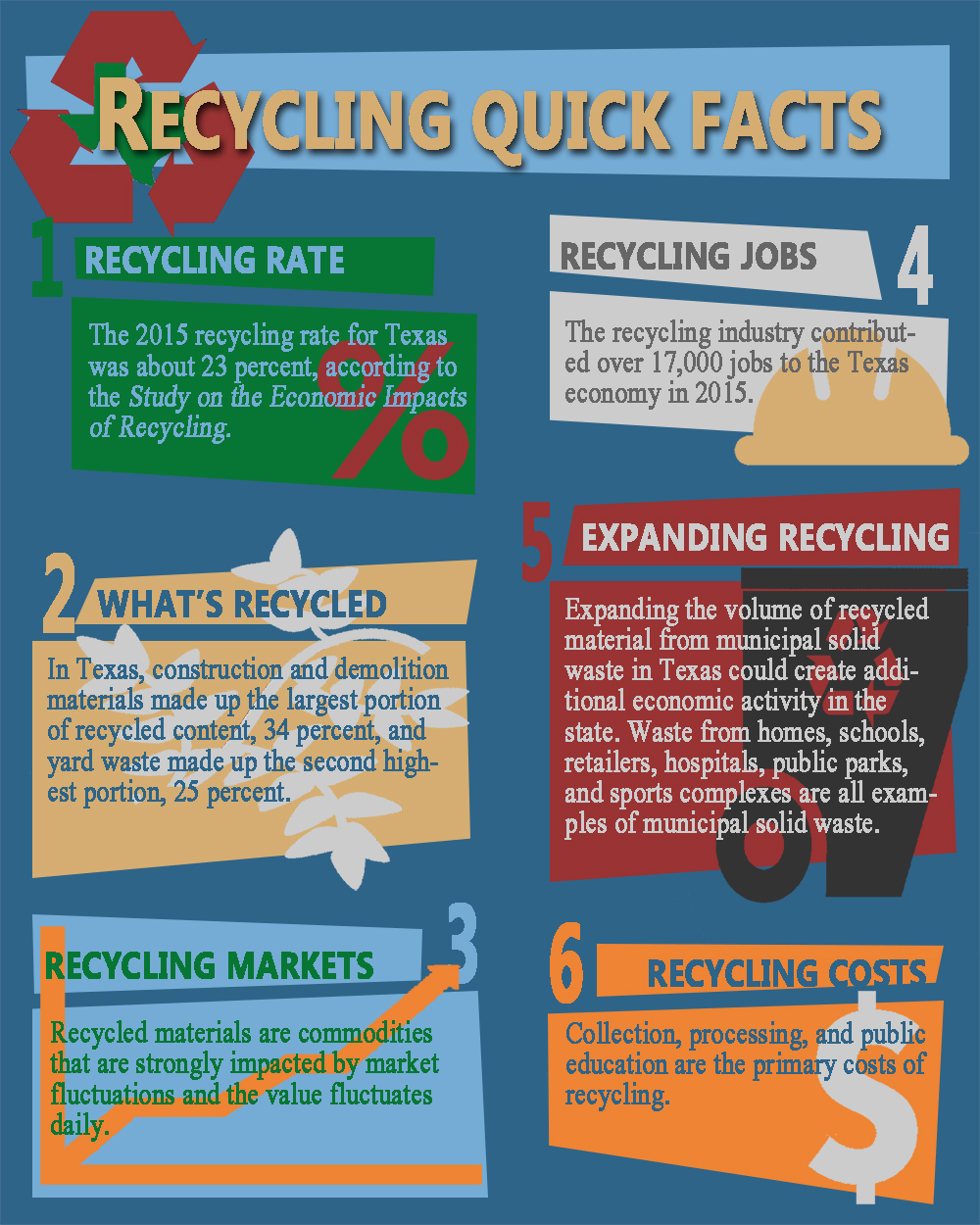 Recycling Benefits the Texas Economy
Each stage of the recycling process in Texas, from collection to manufacturing, benefits the Texas economy. The recycling industry creates jobs, provides wages, and generates revenue for local and state governments. Increasing recycling in Texas could create additional economic activity.
The overall impact of recycling in 2015 on the Texas economy exceeded $3.3 billion.
The recycling industry contributed over 17,000 jobs to the Texas economy in 2015.
The industry is estimated to have generated more than $194.3 million in revenue for state and local governments.
Expanding Recycling in Texas
The biggest opportunity for expanding recycling volumes in Texas is by strengthening local collection programs including educating residents and businesses, reducing collection costs, and making  recycling more convenient. In addition, recycling could be increased by strengthening process operations and increasing demand for recyclable materials by manufacturers.
Uneven Recycling Growth across Texas
In large cities in Texas, recycling is on the rise. Several cities have set ambitious goals to divert high levels of waste from landfills. Generally, single stream recycling is readily available and some are integrating organics collection into their solid waste services.
However, rural, remote municipalities continue to face challenges and recycling is generally much less established. Some areas maintain drop-off locations, some provide curbside collection, and some do not provide recycling services.
Resources for Rural or Underserved Areas
There are resources that can help communities increase recycling. Regional recycling systems and partnerships between neighboring cities could benefit rural and remote areas of Texas. There are also grants that can provide financial support for recycling in these areas. Volunteers, community groups, civic organizations, education groups, and students can all serve as resources to facilitate recycling systems.
Find out more about recycling resources by looking at section 7 in the Study on the Economic Impacts of Recycling.