Overcome the Challenges of Summer Landscape Care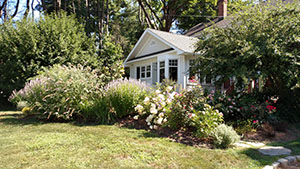 Do you struggle with yard care as the weather warms? This post will help you control annoying mosquitoes, conserve water despite the heat, get healthier plants, and reduce emissions from your yard equipment. You can Take Care of Texas and still maintain a beautiful landscape you can enjoy all summer.
Control Mosquitoes Without Pesticides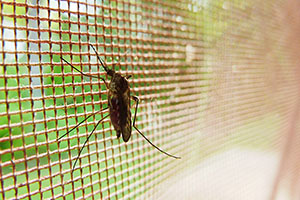 In Texas, mosquitoes are most active during the summer. Although they play an important role in the ecosystem, they can be a nuisance and carry diseases.
One of the most effective ways to control mosquitoes is to reduce their breeding grounds—standing water. Empty buckets, tarps, or potted plant saucers that hold water. Replace the water in bird baths every four days.
If you have water sources in your yard that you don't want to empty, such as rain barrels, you can use products to control mosquitoes at the larval stage. Bacillus thuringiensis israeliensis, commonly known as a mosquito dunk, is effective and non-toxic to humans, amphibians, fish, and birds.
Save Water by Watering Right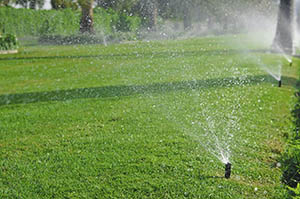 Lawn and garden watering makes up 30 to 50 percent of household water use, so you can save money by conserving this precious resource. For the health of your landscape, water infrequently and deeply. Also, water your lawn in the morning to prevent water loss through evaporation.*
Water Your Lawn, Not the Street
One of the greatest wastes of water results from applying it too rapidly. If you apply water faster than it can seep into the soil, water will run off the lawn, possibly carrying polluting fertilizers and pesticides into our waterways.
To prevent runoff, observe your lawn the first few times you water it. If water starts running onto the street or sidewalk, note how long the sprinkler has been on. Turn off the sprinkler and wait 30 minutes to one hour. Adjust your controller to run for a shorter time. Continue to run short irrigation cycles on your lawn until the soil is wet to six inches deep.*
Are you in an area with a water schedule? Check out this guide for watering during restrictions.
Lawn Watering is not Enough for Trees and Shrubs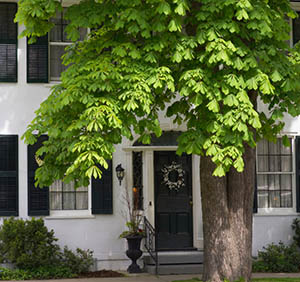 Once established, trees and shrubs can tolerate less frequent watering. In the absence of rain, water them once a month during the growing season.* Normal lawn watering is not a substitute for thorough tree and shrub watering.
Water trees and shrubs just inside of and a little beyond the dripline, not at the trunk. The dripline is the area directly below the outermost reaches of the branches. Lay a slowly running hose on the ground and move it around the dripline, saturating each area to a depth of eight to ten inches.
Are you experiencing drought or dry conditions in your area of Texas? Check out this guide for watering trees and shrubs during drought.*
*Always comply with your water system's water-use restrictions.
Get Healthier Plants With Mulch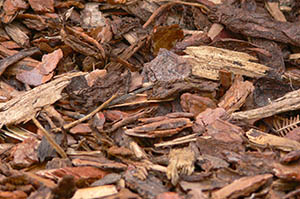 Mulching is one of the best ways to grow healthy plants and conserve water. Mulch is a protective ground covering that reduces evaporation, prevents erosion, controls weeds, and enriches the soil.
Use mulch to maintain an even soil moisture level and temperature—which will promote root growth and plant health.
Water the ground thoroughly before and after applying mulch.
Put a four inch layer of mulch around your trees and shrubs and a two inch layer around your garden plants.
Form mulch into a donut shape around the base of trees and shrubs. Never pile mulch against the trunks of plants.
Spread a mixture of coarse and fine mulch to prevent sunlight from reaching the soil and reduce the chance of weed growth.
Apply organic mulches. They will enrich the soil as they decay, providing nutrients for the soil and improving its texture.
Give Your Yard Equipment a Makeover
Hot summer days in Texas can play a part in ozone formation. Ozone, also known as smog, can cause respiratory health effects when people breathe high concentrations of it over several hours. This summer, do your part to keep our air clean—starting in your own yard.
Maintain Your Equipment
Follow the manufacturer's guidelines for changing oil and air filters, using the proper mixture of fuel and oil in two-stroke engines, and getting tune-ups.
Consider Cleaner Options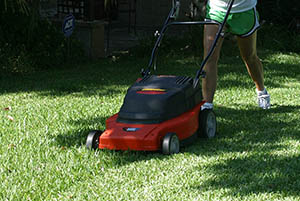 When selecting equipment, compare the emissions and energy use of different products. Some types of lawn and landscape equipment, such as those with electric or battery powered engines, are more environmentally friendly than others. They are quieter too. Also consider using manual tools, which burn calories instead of gasoline.
What do you do to help Take Care of Texas in your yard? Share your story with us.