New PSA from Country Music Star Cody Johnson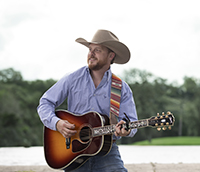 Today, Take Care of Texas is launching a new TV PSA featuring country music star Cody Johnson! The PSA will run all summer on stations across Texas and features a tune written and performed by Johnson.
Johnson—the only unsigned artist to sell out NRG Stadium at RodeoHouston—donated his talents for the TV spot to help encourage all residents of our state to do their part to Take Care of Texas.
Since 2014, Take Care of Texas has been developing PSAs with Texas musicians that are passionate about conservation—Johnson is the third artist to contribute his time.
For a chance to win a Samsung Galaxy Tab A, provided by H-E-B, enter our contest. First, pledge to Take Care of Texas—be sure to select "Contest" from the "How did you hear about us?" drop down menu. Then, like us on Facebook. See the complete contest rules.