Make Your Camping Trip a Green Getaway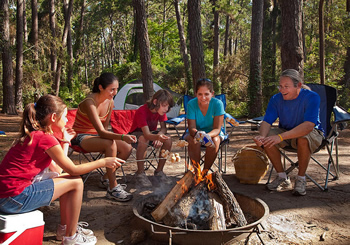 Spring is quickly approaching. The cooler weather makes it a great time to get outdoors before the summer heat hits. One easy way to get outside and explore our beautiful state is by taking a camping trip. While you are camping, it is important to take care of the environment, so that many Texans can enjoy our parks, wildlife, and natural resources for years to come. As you plan your trip, keep these tips in mind to make sure it is a green getaway!  
Burn Wisely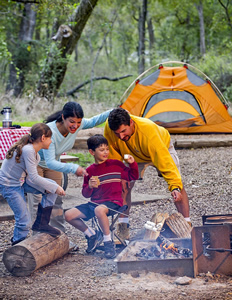 Reduce Your Impact
Bring a separate bag or receptacle to collect your recyclable items.
Pack durable, reusable plates, utensils, and cookware. This will reduce the amount of waste you generate and they can be reused on future camping trips.
Reduce waste by bringing reusable water bottles. Take a large container with water to refill your bottles throughout the trip.
Follow signs and stay on the trail at all times to avoid damaging native plant life. 
Prevent Pet Pollution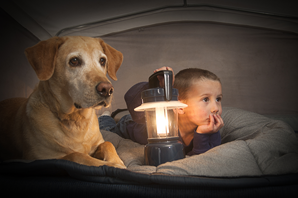 Be sure to check if pets are allowed in your camping area. Most Texas State Parks do allow pets. Even if pets are allowed, never leave them unattended, as they can disturb wildlife and damage plants. Always check leash laws and pet rules in the area. 
Take bags with you to collect your pet's waste and dispose of it properly. Never leave pet waste on the ground, as it can be carried into waterways.
Location, Location, Location
Cut down on fuel costs and emissions by selecting a campsite nearby. You'll also reduce travel time, giving you more time to enjoy the great outdoors! Locate a Texas State Park. 
When you arrive, set up your campsite in designated areas. If there are no designated areas, choose a durable surface to reduce your impact on the land. 
Leave It Better Than You Found It
When you leave your campsite, be sure that you have collected all of your trash and your belongings. Dispose of your waste properly. 
If you encounter any litter in the area, do your part by picking it up.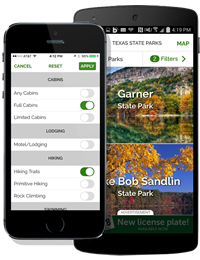 Download the Texas State Parks Official Guide app before you go! This free mobile guide allows you to search all 95 Texas State Parks by available activities or overnight accommodations. You can also view the parks on a map, making it easy to locate a park nearby.