Learn How to Do Your Part to Conserve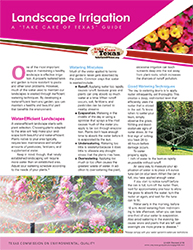 Inefficient landscape irrigation wastes billions of gallons of water every year. This can be due to overwatering, underwatering, watering at the wrong time of day, leaks in irrigation systems, or sprinklers that spray sidewalks, streets, or driveways.
Learn how to do your part to save water with efficient watering techniques. Order or download our FREE guide to Landscape Irrigation, plus check out our other landscape guides that will help you maintain a beautiful, eco-friendly yard.