Kids and Teens Can Take Care of Texas Too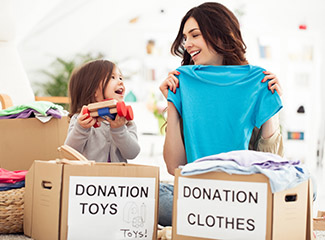 Are you looking for interesting, fun, and easy things that your kids can do to help Take Care of Texas? Check out the seven tips below. They are written specifically to help parents encourage their kids to save water, keep the air clean, and throw away less trash.
As a bonus, most of these tips will also save money!
Pack a Waste-Free Lunch
Packing a waste-free lunch for your kids is great for the environment. Rather than using plastic or paper bags, invest in reusable items. Consider purchasing a lunchbox or cooler, water bottle, cloth napkins, and utensils that your kids can take to school. Another way to reduce waste is to buy food in bulk or larger quantities, avoiding individually packaged items.
Save Money, Save Gas, and Stay Safe
Driving can be a lot of fun for teens, but it is also a big responsibility. Gas and maintenance can be expensive and vehicles are a source of air and water pollution. One of the biggest ways to save money and gas is by avoiding aggressive driving and speeding. Teach your teen to slow down, accelerate gradually, and brake gently. Not only are these tips good for the environment and your wallet, they will also help your loved ones stay safe. Get more driving tips for teens.
Throw Away Less Stuff
Each Texan throws away over 6 pounds of garbage every day. You can help your kids learn to make a difference by buying less and looking for used items instead of new ones. Organize a swap with neighbors and friends where you can exchange clothes, costumes, games, and other items. Encourage your kids to check out books from the library or buy them used. If your kids are begging you for the latest tablet, see if you can find a refurbished option that they'll like. When you have things that you no longer want or need, donate them. Learn more about throwing away less.
Don't Waste Food
On average, we discard 36 pounds of food per person each month. Most of that winds up in landfills. When we throw food away, we are also wasting the energy and water it takes to grow and transport our food. Help your kids understand the importance of not wasting food. Encourage them to take only the amount that they think they will eat. Serve your kids leftovers before making something new. Not only will you help the environment, you'll also save big on your grocery bills!
Shower Power
A shower uses much less water than filling up a bathtub. The average bath takes up to 70 gallons of water. However, a shower only uses ten to 25 gallons of water. Encourage your kids to save water by taking a shower instead of a bath. For an extra challenge, see if they can keep their shower under five minutes. If you want your children to take a bath, consider filling the tub only part way. Also, be sure to plug the drain as soon as you turn on the water and adjust the temperature as you fill up the tub. Learn more about saving water.
Use the Ceiling Fan
Teach your children how to use ceiling fans instead of adjusting the thermostat. Ceiling fans allow you to raise the thermostat setting about four degrees without discomfort. But remember, a ceiling fan cools people, not the room. So be sure to tell your kids to turn off the fan when they leave the room. In the summer, set the fan to turn the blades in a counterclockwise direction. This blows air down, cooling the people in the room. In the winter, set the fan speed on low with the blades spinning in a clockwise direction. This forces warm air off the ceiling and circulates it throughout the room.
Shop Smart for School Supplies
You can help support recycling programs by buying products that are made from or packaged in recycled materials. Items made from recycled content are manufactured with fewer virgin materials and require less energy to produce. Check out the labels when shopping for school supplies. You may see the following terms:
Recycled-content product: The product was made with recycled materials either collected from a recycling program or from waste recovered during the normal manufacturing process.
Post-consumer content: This label has a similar meaning as recycled-content, but the material comes only from recyclables collected from consumers or businesses through a recycling program.
Recyclable product: These products can be recycled after they have been used, but do not necessarily contain recycled materials. Remember to check with your local recycling program to find out what kinds of materials are collected in your community.
Want to learn even more ways for your family to get involved? Check out our web pages for teens and kids!