Interactive Activities for the Classroom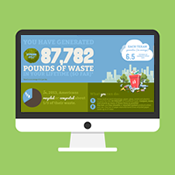 Are you searching for fun, free resources to use in the classroom? The Take Care of Texas website offers a variety of interactive features that students will enjoy. These activities can help engage students and teach them ways to help take care of the environment! The resources can be used in a variety of settings—project them up on the whiteboard to use as a class activity, or have students explore individually and share what they've learned. 
How Can You Take Care of Texas?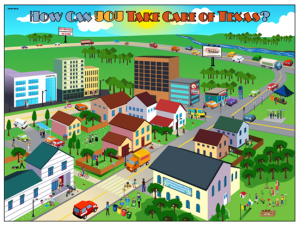 Aimed at younger students, the How Can You Take Care of Texas? activity poster illustrates some of the different ways they can help improve environmental quality. Students can explore a community and learn about ways they can positively impact the environment, ranging from mulching and composting to fixing leaks. Students can encourage their parents, siblings, family, and friends to help them take care of the environment by sharing some of the things they've learned from the poster. 
Corresponding games and activities are available for download. 
Water ReCycles: The Complete Story
Water ReCycles is a great learning tool for students (and adults) of all ages. This poster provides an in-depth look at the ways in which humans affect the natural water cycle. Students can follow along with the different steps involved in the two water cycles—natural and human-affected—and how they relate to one another. There are also examples of ways that Texans can recycle water at home, such as rainwater harvesting. 
Educational activities relating to the water cycle can be downloaded. 
Make a Difference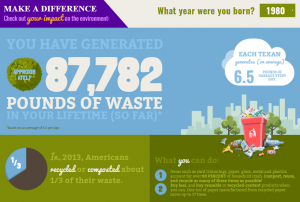 The Make a Difference feature is a great way to show students why it is important to conserve water and energy and reduce waste. This feature will show students their lifetime impact on the environment, while also providing tips to help reduce their impact. Students simply enter their birth year to receive statistics on how many pounds of waste they've generated, how many gallons of water they've used, and how much money their family has spent on electricity in their lifetime. The results are eye-opening!
Games
Students can follow along with River and Sky, the Take Care of Texas mascots, as they play some fun, educational online games. These interactive activities include online coloring pages, trivia questions, and a cryptogram game. These games are a great way for students to have fun and compete while also learning about ways to Take Care of Texas!
Check out our Kids, Teens, and Teacher pages to find more educational resources!