How to Recycle at Your School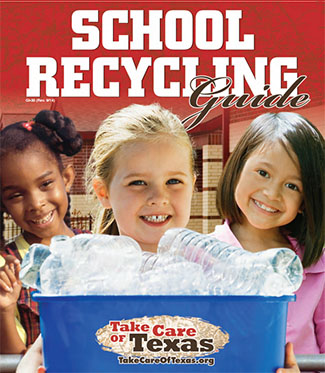 This post provides a helpful overview of school recycling, whether you want to start a recycling program at your school, or improve an existing program. You can get more detailed information in our Texas School Recycling Guide.
Benefits of Recycling
A recycling program may save your school money. For example, before you start a program, you can find out if your school is currently paying for more disposal services than it needs. Once the recycling program is established, you may save by reassessing the school's needs for trash service. Because you will be throwing less in the dumpsters, you may be able to reduce the size or number of containers or the frequency of collection.
Recycling is also great for the environment. Each Texan creates about 6.5 pounds of trash every day and only one third of that gets recycled. In Texas, we only have enough landfill space to last another 56 years. In addition, recycling also saves energy and resources like trees and water.
How to Recycle at Your School
Do Your Research
The first step to starting a school recycling program is to find out a few key pieces of information.
Find out how much your school is paying for trash disposal and the scope of the contract.
Conduct a waste audit. During a waste audit, you examine your trash containers the day before they are picked up and maintain records of what you find. Although this sounds like a dirty job, it's important because it tells you whether your school is paying too much for trash disposal and how many recyclable items are in the dumpsters.
Look for recycling service providers. You can contact your city or county solid waste department to find out what recycling services are available to schools in your area. Another option is to check online for commercial recycling collectors. You want to find out the types of recyclable materials the collectors accept and the cost of collection.
Present your results to your school's administrators. It's important to get their support because they can provide staff and money to help make the program a success.
Get Your Entire School Involved
Help the program succeed by getting participation from administrators, teachers, students, and parents—anyone who might be interested. There should be one staff member, who is organized and enthusiastic about recycling, that coordinates the program. To help share the work of managing a recycling program, assign student coordinators to each classroom and create a recycling committee.
Develop a Collection Plan
Develop a collection plan that makes it easy for people to recycle. Consider how you'll move the materials from the collection points to the recycling pick up location. Decide whether your school will purchase a recycling service or will use volunteers to take the materials to a recycling center.

Create Awareness of the Program
Get creative! Promote the recycling program. You can do things like develop a logo and slogan, put up fliers, and organize an assembly. It's important to educate people about what can and can't be recycled and the proper bins to use. You can also generate enthusiasm by sharing program milestones, the cost savings from the program, and the environmental benefits of recycling.
For more details, download the Texas School Recycling Guide.