How to Organize an Outdoor Beautification Event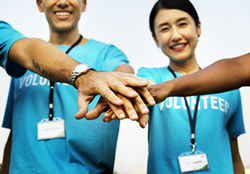 Your commitment to Take Care of Texas can include venturing into the outdoors to clean up litter in your community. If you would like your office or organization to participate in a structured or self-styled event, read on for tips and links to organized events. 
Organized Cleanup Events
Litter Cleanups
You can benefit the community and make your commute to work more pleasant by participating in a large-scale program like TxDOT's Adopt a Highway program. Participants take responsibility for a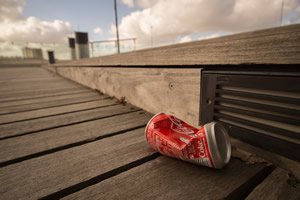 two-mile stretch of nearby highway for two years, with a minimum four-event commitment. 
You can also participate in the Don't mess with Texas Trash-Off. This event is part of the Great American Cleanup, a nationwide effort that occurs every spring. Participating groups use this period to clean up a roadway of their choosing and will receive gloves, bags, and data cards to clean up their area and record their progress. 
Waterway Cleanup Events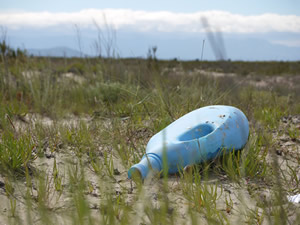 If you live on the coast or need a reason to take a trip to the beach, the Texas General Land Office hosts Adopt-A-Beach cleanups. This program gives Texans an opportunity to make our beaches beautiful places for humans and animals to thrive by removing trash that washes up on the Gulf shore. Official beach clean-up days are generally in the end of April and September. Visit the GLO website for more information and to sign up. 
Texas Parks and Wildlife and Keep Texas Beautiful want you to help clean up your favorite river through the River Access and Conservation Area (RACA) program. Participating groups can register their event and receive supplies to make the event a success. Visit their list of river areas that are eligible for the program to see if there's one near you. 
Keep Texas Waterways Clean is another event to tidy up your favorite living waterway. Each volunteer group must pick a destination within 30 miles of an H-E-B store or Central Market location and register with Keep Texas Beautiful. Participating groups will have access to free cleanup supplies and publicity resources. Participating groups will submit data about their event to Keep Texas Beautiful, so take careful notes and congratulate yourself for a job well done. 
Other Events
If you'd like to save yourself some effort and bolster the efforts of an existing event, you can find a list of events all over the country at the National & Community Service webpage.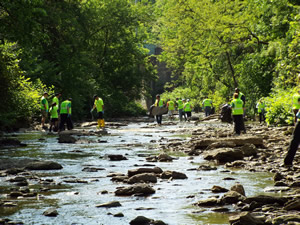 Narrowing your search to events under the category "environment" will help you find even more opportunities and events like the ones we've listed here.
The easiest event to plan is a cleanup of the area around your office park, campus, or parking lot. Set a modest budget for gloves and bags and spend a fair-weather day picking up trash along the road, in the parking lot, and along property lines where litter has been blown in to fences and tree lines. Additionally, you can leave a lasting reminder of your efforts by planting some new trees and shrubs to beautify the area. This can be a small and simple first-time event that builds enthusiasm for bigger events in the future.
Plan for Your Cleanup Event
Initiate a Cleanup
Once you have chosen a specific cleanup event, you'll need to inspire a team of volunteers to join you in the effort. Your event's success depends on the number and motivation level of participants, so push hard to get people excited to give back to their community! While many people are willing to volunteer their efforts and time for the satisfaction of making a difference, you may also choose to offer incentives to coax others from the sidelines. If your office is hosting the event, for example, incentives might include things like earned paid time off, a catered meal or snacks, raffle prizes, or even workplace recognition such as a plaque or special parking space.
Next, spread the word with your organization's email, social media, online calendar, and physical bulletin boards. If possible, create an online or physical RSVP list to gauge the number of participants to expect.
Quantify Results
Record data related to the event—number of volunteers, hours worked, size of the area cleaned, amount of litter collected, recycled, or composted, and types of litter collected. If possible, weigh the litter you pick up or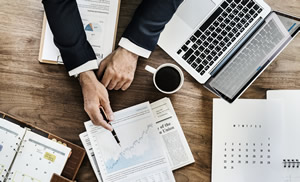 estimate the volume based on the number and size of bags you collect. Some of the parent organizations will tabulate this valuable data and use it to promote future events. More importantly, you'll have a solid number to illustrate your success that can motivate even more participation next time.
Celebrate!
Recognize your volunteers' hard work with a party, celebratory emails, and promotion on social media. Let your local newspaper know about your efforts to acknowledge your volunteers' efforts. Reminding everyone about how rewarding it is to see a clean neighborhood and wild areas will help with recruiting for your next cleanup event.