Grow Local at Your School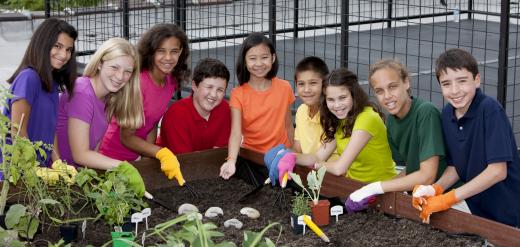 Starting a garden at your school is a great way to educate students about plants, nature, and the great outdoors. This can be a project for students, teachers, parents, and community volunteers to get involved in. You may even be able to use some of the food in your school's cafeteria!
Select Your Spot
One of the first steps is finding space for a garden on your campus or in your community. Potential sites for a garden could be a parking lot, courtyard, rooftop, greenhouse, public park, nature center, or community garden. When selecting a space, consider things like nearby water sources and sunlight exposure. Be sure the space has safe and easy access for students, teachers, and volunteers.
You'll also want to ensure that the soil is healthy in the area you've selected. Many Texas gardeners encounter soil quality issues that are not conducive for plant growth. A solution to this problem is building a freestanding raised garden bed. These garden beds lift plant roots above poor soil, improving growing conditions. Additionally, the height of raised beds makes them easier to maintain and they will warm up earlier in the spring. Learn how to construct a raised garden bed at your school.
Pick Your Plants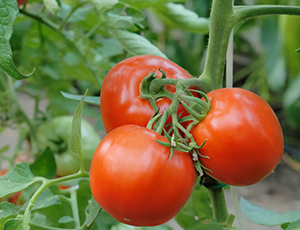 You will also need to decide what to plant in your garden. Consider selecting native or well-adapted plants, which can save you time and money. Select safe plants, meaning no poisonous fruits or large thorns. Ensure that your selections are suitable for growing in your region. Use the Earth-Kind Plant Selector to find the best plants for your area. 
Begin with easy-to-grow fruits and vegetables like lettuce, peas, radishes, and watermelon. You may also select plants based on a theme, recipe, or science lesson to connect with your school's curriculum. Texas A&M AgriLife Extension offers guides with instructions and tips for easy-to-grow vegetables in Texas.
Get Help with Your Garden
The Texas A&M AgriLife Extension Service has 250 offices serving all 254 Texas counties. Your local extension agents can often answer questions in addition to providing educational programs, workshops, and literature to help with your school garden. Volunteers with their Master Gardener program can also answer horticultural questions and may even be able to visit your school garden to provide advice and solutions. Locate your county extension office. 
Rainwater Harvesting
If your school will allow, consider collecting rainwater from a roof and storing it in catchment tanks, such as rain barrels. Not only is this water free of charge, but it is also better for plants than chemically treated water. Rainwater harvesting also helps reduce flow to stormwater drains and reduces stream pollution. Building a rain barrel is simple! Watch our how-to video for a step-by-step demonstration.
Composting Bin
Start a compost bin for garden waste like leaves, grass clippings, weeds, and spent garden plants. Once these items go through a natural decomposition process, they can be used as mulch or mixed into the soil in your garden. This material is rich in humus and nutrients that enrich your soil and aid healthy plant growth. Check out our video to help get your compost pile started!
Container Gardening
If you aren't able to locate a sufficient outdoor space for a school garden, consider starting a container garden. These mini-gardens can fit on a windowsill inside of your classroom. Not sure what to grow in a container garden? Nearly any vegetable that grows in a typical backyard garden will thrive in a container setting. Start with tomatoes, peppers, lettuce, squash, and parsley.
Container gardening suggestions 
Find more information about school gardens from the U.S. Department of Agriculture.