Green Your Office Gathering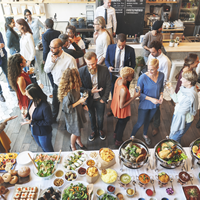 The holiday season has officially arrived, which means it's time to gather with family, friends, and coworkers. Will you be celebrating the holidays with your organization? An office holiday party can be a fun, festive time spent with coworkers, employees, and customers. However, these holiday parties also require a great deal of planning and coordination. Avoid the added stress of unnecessary waste by making this year's office gathering an environmentally friendly celebration! 
Invitations
Send out party details digitally, rather than printing individual invitations for each person. This will cut back on paper use and allows for a quicker distribution process. If RSVPs are required, you'll be able to keep track of them digitally. 
Decorations
Find decorations that can be repurposed for another holiday or future gathering. After the party is over, don't throw your decorations in the trash. Instead, store them for next year's celebration. You may also be able to save money by making your own decorations out of items you already have. 
If you will be decorating with any holiday lights, look for LEDs. These lights require much less electricity than conventional lights and they will also last for 20-30 years!
Dishware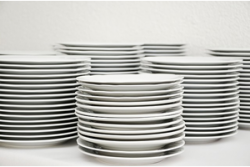 If possible, avoid using disposable dishes and utensils for dining. If you use disposable dishes, look for ones that are recyclable or are made from recycled or compostable material. Encourage guests to label or mark their cups so that they can be reused throughout the party. 
If you are hosting an office pot luck, encourage employees to bring their dishes in reusable pans or serving dishes. Reduce food waste by storing any leftovers in reusable containers. 
Waste Disposal
Provide recycling bins at the party and be sure to make them easily identifiable. Encourage guests to recycle their cans, bottles, and paper products. Compost bins are also a great idea for collecting food scraps. 
Gift Exchange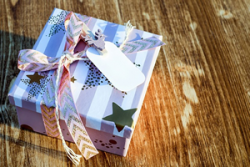 If you are having an office gift exchange, encourage participants to use environmentally friendly packaging. This could include reusable wrapping, like shopping bags, tins, or boxes, or recyclable wrapping. Keep in mind that many types of wrapping paper are not recyclable. Check with your local recycling program or waste hauler to find out what is recyclable in your area before the gift exchange.