Four Family-Friendly Activities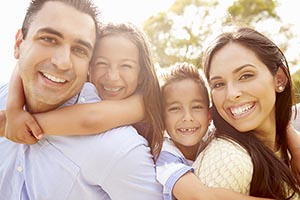 Mother's Day is just around the corner and Father's Day will be here before you know it. Are you looking for some fun and educational activities you can do with your kids on these special days? How about spending some time as a family learning about how you can protect the environment? Check out the four activities below to get some ideas.
1. Enjoy the Great Outdoors
Visit your nearest park, state park, or nature center with your kids. Ask them to draw a picture or write a poem about what they saw. If your daughter is in a participating Girl Scout council in Texas, she can share her picture or poem with her troop and complete one activity toward the Girl Scouts Take Care of Texas patch.
Activities in nature are a family bonding experience. According to the U.S. Fish & Wildlife Service, when adults spend time with kids outdoors, kids feel respected and cared for and they communicate more. Parents also benefit, as time spent outdoors helps people relax and let go of the stresses of the day. In addition to bringing families closer, outdoor play benefits kids by leading to higher achievement and test scores and building confidence in kids.
2. Check Your House for Leaks
Leaks can waste enough water each year to fill a backyard swimming pool. Water leaks include running toilets, dripping faucets, and other leaking pipes. Fixing leaks can save you more than 10 percent on your water bill and most of them can easily be repaired.
Show your kids where the water meter is on your house. Write down the current reading. Then don't use any water for two hours. At the end of the two hours, check the water meter again. If the meter doesn't read exactly the same, you probably have a leak.
Leaking toilets can waste 200 gallons of water per day. Work together with your kids to find out if you have a leak in your toilet. Put a drop of food coloring in the toilet tank. If color shows up in the bowl within 15 minutes, without flushing, you have a leak. The cause of a leaking toilet is often an old, faulty toilet flapper and this is relatively easy to repair.
3. Build a Rain Barrel Together
Talk to your kids about the importance of saving water and explain how rainwater harvesting can make a difference. Rainwater harvesting is simply collecting and storing rainwater. Before there were public water utilities, many American households harvested rainwater. This practice is becoming popular again for environmental and economic reasons.
Lawn and garden watering makes up 30 to 50 percent of total household water use. Collecting water with a rain barrel will save you money on your water bill. Plus, building a rain barrel is a fun and relatively easy activity to do with your kids. You only need a bit of time, a few tools and some inexpensive parts. Check out our guide, Rainwater Harvesting with Rain Barrels, and our video, Building a Rain Barrel.
4. Save Energy and Keep the Air Clean
With your children, go around the inside and outside of your house and work together to identify ways you can save energy as a family. You'll save money and help protect the quality of our air. Point out activities that are easy for kids to do and identify things that you can do as well.
A few ideas for kids could include turning off the lights when you leave a room, turning off the TV and computer when not using them, recycling, and walking or riding your bike with your kids when going places close to home.
Be sure to also discuss activities that you can do such as keeping up with maintenance on your car, replacing light bulbs with ENERGY STAR CFLs or LEDs, installing a programmable thermostat, and weatherizing your home. Encourage your family members to hold each other accountable to the energy saving activities you all agreed upon. Check out our website for more ways to save energy as a family.