Foreign Invaders in Texas Lakes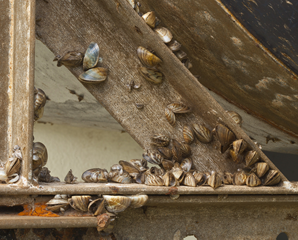 Zebra mussels are a small, yet destructive, invasive species threatening to spread across Texas by hitching rides on boats and trailers. These mussels often go undetected, as they are smaller than one and a half inches in size. Zebra mussels multiply rapidly – just one mussel can produce up to a million microscopic larvae per year! These invaders hide in water, often going unnoticed due to their size, and attach to hard surfaces, like boat hulls and motors. This invasive species is a threat to all freshwater sources in the state and has devastating economic, recreational, and environmental impacts. 
Negative Impacts of Zebra Mussels
Zebra mussels multiply rapidly over large areas, causing significant environmental and economic damage. 
Boats – Zebra mussels can damage boats by encrusting boat hulls. They can also clog water systems that are used in boat motors, air conditioners, and heads. The mussels can also cause navigation buoys to sink and can destroy fishing equipment.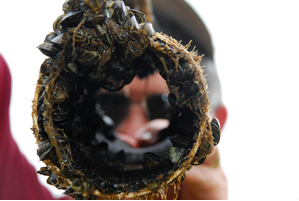 Water Supply – Zebra mussels that colonize inside of pipelines can disrupt the water supply by restricting the flow of water. They also damage the water intake structures that provide water to thousands of homes and businesses, costing taxpayers millions of dollars. 
Native Species – Zebra mussels lack natural predators in Texas lakes and are able to take over habitats from native species. This damages the lake's ecology and affects the fish population. Zebra mussels pose a significant threat to native mussels by competing for food and attaching to their shells. A colony of zebra mussels can smother a native mussel colony. 
Where are Zebra Mussels?
Zebra mussels originated in Eurasia and arrived in North America in the late 1980s. They initially invaded the Great Lakes region and the first Texas infestation was discovered in Lake Texoma in 2009. Since then, zebra mussels have made their way in to several other Texas lakes, and could eventually take over all freshwater sources in Texas. Just this summer, two new populations of zebra mussels have been discovered in Texas lakes. 
Infested Lakes: The water body has an established, reproducing zebra mussel population. Currently, eleven Texas lakes are classified as fully infested – Belton, Bridgeport, Canyon, Dean Gilbert, Eagle Mountain, Lewisville, Randell, Ray Roberts, Stillhouse Hollow, Texoma, and Travis. 
Positive Lakes: Zebra mussels or their larvae have been detected on more than one occasion in lakes Livingston, Waco, Worth, and Fishing Hole Lake. At this point, there is no evidence of a reproducing population in these lakes. Rivers downstream of infested lakes, including the Red, Leon, and Elm Fork of the Trinity, are also positive for zebra mussels. 
Suspect Lakes: Zebra mussels or their larvae have been found once in recent years. In Texas, Lake Fork and Lake Ray Hubbard are classified as "suspect."
Inconclusive Lakes: Zebra mussel DNA or an unverified suspect organism has been found in the past year. 
View the map of zebra mussel status in Texas. 
Be a Responsible Boater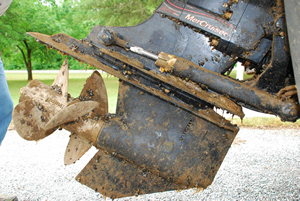 The only way you can be positive that you are not carrying zebra mussels is to always clean, drain, and dry your boat, trailer, and gear. Zebra mussels can survive for days in any water that has been trapped in your boat. 
In Texas, it is unlawful to possess or transport zebra mussels, dead or alive. Boaters must drain all water from their boat and onboard receptacles before leaving or approaching a body of fresh water. This requirement applies to all types and sizes of boats, including personal watercraft, sailboats, kayaks, canoes, or any other vessel used on public waters. 
Clean – Clean your boat, trailer, and gear by removing all plants, animals, and foreign objects. A quick trip to the car wash to use high-pressure spray nozzles can help clean crevices and hidden areas. If your boat has been stored on infested waters, it may need to be professionally decontaminated. 
Drain – Drain all water from the boat, including the motor, bilge, live wells, and bait buckets, before you leave the lake. 
Dry – Dry the boat and trailer for at least a week before entering another body of water. If you are unable to let it dry for this long, wash it with a high-pressure washer and hot, soapy water. 
Learn how to properly clean, drain, and dry your boat with this instructional video from Texas Parks and Wildlife. 
Report a Sighting
Help stop the spread of zebra mussels. Report any new sightings, and if possible, take a picture of the zebra mussel and record its GPS location. Submitting a report will alert the appropriate authorities. If you've stored your boat on a lake that has been classified as "infested" or "tested positive," call Texas Parks and Wildlife for guidance at (800) 792-4263 before moving it.