Exciting, Paid Internships for College Students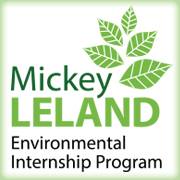 The TCEQ is now accepting applications for the Mickey Leland Environmental Internship Program. An internship will help undergraduate and graduate students learn about environmental issues, build marketable skills, and gain professional experience. Students will complete a full-time, paid internship over the summer with an assignment at the TCEQ, another state agency, or a private sector company in Texas.
The MLEIP has a competitive application process—in 2017, over 600 students from across the nation applied. Complete application packages received by the March 9, 2018 deadline have the best opportunity for review and selection by sponsors/managers. Incomplete application packages may not be considered. Learn more about the internship program.
2017 Intern, David Anderson
David is a recent graduate from the University of Texas at Austin with a Bachelor of Science in General Geology. As an intern in the MLEIP, David worked in the remediation division at W&M Environmental in Houston. Through his internship, he gained experience in site investigations and learned about the rules and regulations used in environmental work in Texas. See more stories from interns on the MLEIP Facebook page.