The Essentials of Birdwatching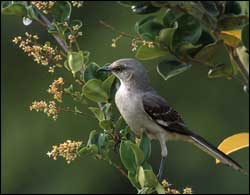 National Bird Day is Jan. 5 and we thought you'd like to celebrate by doing a little birdwatching. Many consider Texas to be one of the best states for birding. There are 629 documented species of birds in Texas. They occur in a wide variety of places and are abroad both night and day. You don't need much special equipment to enjoy this pastime—just a pair of binoculars and a good field guide.
Wildlife Viewing Tips
Whenever you are viewing wildlife, be sure to follow these tips. You'll increase your chances of seeing animals and avoid startling them.
Wear natural colors and unscented lotion.
Remove sunglasses that glint.
Walk softly.
Crouch behind boulders or vegetation.
Look for the brown and white binocular signs along highways. They indicate wildlife viewing areas.
Don't get close to nests; it can jeopardize the young.
Let animals eat their natural foods; people food can harm them.
Essential Information for Beginning Birders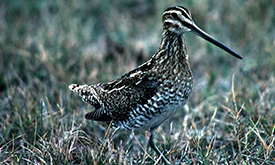 Identifying bird species can be a challenge for beginners. Here's a few tips that will give you a head start.
1. Notice the size and shape of the silhouette, bill, and wings.
2. Observe the bird's overall colors and patterns.
3. Watch its behavior including posture, movement, flight pattern, feeding style, and flocking.
4. Take note of the bird's habitat including location and time of year.
How to Use Binoculars
A challenge for beginners is buying and learning to use binoculars. 7x35 or 8x42 power binoculars are affordable and good for birdwatching. Follow these steps:
1. Find the subject with your unaided eyes.
2. Bring the eyepieces just under your eyes.
3. Sight the subject over the tops of the eyepieces.
4. Slowly bring the binoculars to your eyes.
Where to Find Birds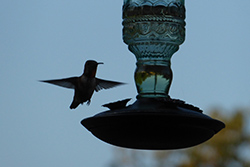 Birds occur in a wide variety of environments, from your backyard to the backcountry. You can look for backyard birds around your home or neighborhood park. This guide can help you identify them. Texas State Parks offer birding events and you can also find out what birds are at a State Park near you. Check out a Texas Wildlife Trail, a driving adventure that will lead you to the best wildlife viewing spots. Explore the World Birding Center in the Rio Grande Valley.
Fun Ways for Kids to Learn About Birds
Be Safe, Courteous, and Respect the Environment
As with any outdoor activity, it is important to take precautions. Practice Leave No Trace Principles. Tell a loved one where you will be going and when you plan to return.
Always be prepared by bringing the proper gear such as:
Map
Flashlight
Water bottle
Cell phone
First-aid kit
Insect repellent
Sunscreen
Outerwear