Essential Elements for a Waste-Free Lunch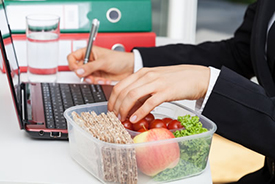 Are you eating healthy for the New Year? Packing your lunch to take with you to work or school each day is a great way to stay on track. Packing a lunch, rather than eating out, is also great for the environment. By eliminating the drive to your local eatery, you can save fuel and help reduce emissions. You can reduce your environmental impact even more by making sure your lunch is waste-free!
Lunchbox or Cooler
Invest in a reusable lunch box, bag, or cooler to carry your lunch. Many lunch boxes are insulated, which can help keep your food cold.
Containers
Switch to reusable food containers instead of using disposable plastic bags. Some eco-friendly alternatives include plastic containers, glass containers, or reusable sandwich bags. 
Drinkware
Purchase a refillable bottle or tumbler to use every day. This can eliminate the need for plastic bottles or disposable coffee cups.
Napkins
Replace your paper towels or paper napkins with cloth napkins. You can wash them when they get dirty and reuse them. 
Utensils
Instead of packing disposable utensils, purchase a set of durable, reusable utensils to keep in your lunch box.
Food
Buy food items in larger quantities, avoiding individually packaged items. Lunch is also a great time to reheat the leftovers from last night's dinner! Pack only as much as you plan to eat.
Recycling and Composting
If some non-reusable items find their way into your lunch box, you can still do your part to reduce waste by recycling or composting.
Typically, bottles, cans, glass, aluminum, cardboard, and some types of plastic can be recycled. If you don't have a recycling bin in your office, save your recyclable items to take home with you. Remember, don't put non-recyclable items in your bin. Be sure to contact your city or local recycling program to confirm which items are recyclable in your area.
Fruit and vegetable scraps, coffee grounds, and tea bags can all be composted. If you have any of these items leftover from lunch, you can take them home with you at the end of the day to put in your compost bin. Always remember to avoid composting any meat, bones, fish, or dairy products.
Looking for other ways to Take Care of Texas while you're at work? Check out our office tips.