Environmental Videos for Your Class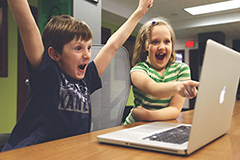 Including multimedia in the classroom is a fantastic way to engage students in learning. Whether you are enhancing existing lessons about the environment, exposing students to new ideas, or inspiring your class, videos are a remarkable teaching tool.
Check out the free videos below for your next lesson!
Take Care of Texas Kids Storybook
In this video, your class will meet River and Sky, the Take Care of Texas mascots. River and Sky are Blue Lacys, the state dog of Texas and they want to help kids make smart choices to Take Care of Texas every day! Your students will follow along with River and Sky to learn why it's important for all Texans to work together to protect the environment at home, outside, at school, or in our community.
Award Winning Youth and Educators
Get inspired by these videos of award winning students and educators around the state! Since 1993, the Texas Commission on Environmental Quality has been recognizing environmental achievements by selecting individuals and organizations to receive a Texas Environmental Excellence Award. Check out past winners in the Youth and Education categories. Share these stories with your students to help them aspire to be environmental heroes.
Simple ways to Take Care of Texas
Did you know Texans are projected to need over one trillion more gallons of water by 2070? Show this three minute video to your class to begin the conversation about Texas' resource requirements and how those needs alter the environment. You'll also discover tools, provided by Take Care of Texas, which will help you and your students take simple yet effective steps to conserve water and energy, keep the air and water clean and throw away less.
School Project Ideas
How to Build a Rain Barrel
Texas is a drought prone state and it's crucial that Texans do their part to conserve water. This video demonstrates how to make your own rain barrel. It's a hands-on way to help kids learn about drought and water conservation. Plus, it's a practical way to save water and money at your school because you can use the water on your school garden or landscape. Also, check out our free publication, Rainwater Harvesting with Rain Barrels.
Start Composting
Yard trimmings and food make up about 28 percent of our trash, and much of this could be composted. Compost is a valuable substance that reduces the need for chemical fertilizers, thus saving your school money and keeping the water clean. This video explains simple ways to start a compost pile. Also, check out our free publication, Mulching and Composting.