Cut Back on Paper Use
Paper makes up nearly 30 percent of the municipal solid waste generated each year, which is more than any other material. While recycling paper products is important, you can also do your part by reducing the amount of paper you use. Cutting back on paper use can also be a great way for your business to save money. There are many practical ways to reduce paper consumption in both your office and at home. 
Think Before You Print
Think twice before printing anything. Try to read documents on your computer, tablet, or phone whenever possible to reduce the need for printing. When you do need to print, always use both sides of the paper. 
Use Email
Instead of printing copies of an office memo, consider distributing your message via email. When you need to share documents with coworkers, send them electronically rather than printing unnecessary copies. 
Switch to Online Statements and Bills
Sign up to receive bills and statements electronically. Many banks, cable companies, and utility providers offer electronic statements. You can also opt to pay your bills online, saving even more paper. 
Use Paperless Tickets
Instead of printing airline or event tickets, download e-tickets on your phone. This means fewer papers to keep up with and you won't have to worry about misplacing your ticket. 
Reduce Unwanted Mail
Consumers and businesses receive nearly 81 billion pieces of junk mail each year, most of which ends up as solid waste. 
Options for reducing junk mail: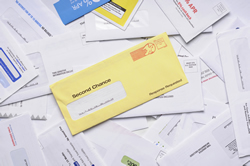 Opt out of receiving pre-screened offers of credit and insurance for five years or opt out of these offers permanently. 
Opt out of receiving unsolicited commercial mail from many national companies for five years through the Direct Marketing Association. 
*Both secured sites are recommended by the Federal Trade Commission and will ask for personal information.