Challenge Kids and Teens to Make a Difference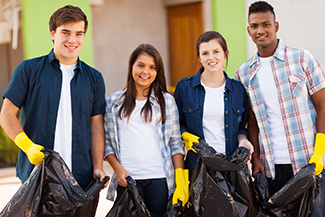 Young people care about the environment and want to help, but sometimes they don't know how.
In this post, you'll find a collection of environmental service projects, such as water quality monitoring, volunteering at Texas State Parks, starting a compost pile, and more!
Give your students an opportunity to make a difference!
Throw Away Less
Schools accumulate a lot of waste—from paper and computers to food and books. Fortunately, waste is a challenge we can do something about and students can be part of the effort. By learning how to reduce waste on your campus, your students can influence the future of your school and district, and have a significant impact on the environment.
Start or Improve a School Recycling Program - This step-by-step manual is designed to help start and maintain a school recycling program.
Reduce Waste in Your School - This easy-to-use guide helps schools and school districts implement new, or expand upon existing, waste reduction programs.
Host an Electronics Recycling Event - The TCEQ provides resources to help dispose of electronics.
Start Composting at Your School - Composting is a great way to reduce the amount of trash entering landfills. Plus, compost is a healthy supplement for your garden and landscape. This video, along with the Take Care of Texas Guide to Mulching and Composting, provides instructions on how to start a compost pile—a fun project for your students.
Get Ideas for Service Learning Projects - Check out what kids across the country have accomplished with projects focusing on safe solid waste management, such as recycling, composting, and reducing household hazardous waste.
Conserve Water and Keep It Clean
Build a Rain Barrel on Your Campus - Texas is a drought prone state and many people are concerned about water availability. Building a rain barrel is a great way to teach your students about water conservation. Check out this video and the Take Care of Texas Guide, Rainwater Harvesting with Rain Barrels, to learn how your class can build their own rain barrel.
Give Water a Hand - (Ages 9-14) Through Give Water a Hand, youth solve real water problems in their own communities. Students learn where water comes from, where it goes, and how it moves. They also reach out to local water experts for help and decide on a local service project to solve a problem identified by their investigation.
Texas Stream Team - Students in grades K-12, as well as college students, can monitor a body of water under a teacher's supervision with activities based on the educational objectives of the class. The program also offers curriculum and other tools that educators need to support students in the fields of math, science, and social studies.
Get Outdoors
Volunteer at Texas State Parks - Volunteers for Texas Parks and Wildlife play a vital role in conserving Texas' natural and cultural resources. There are many types of existing volunteer opportunities, or your class can come up with its own ideas.