Celebrate Earth Day April 22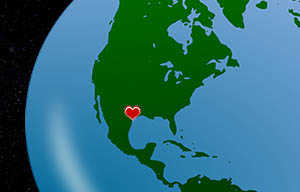 "It really boils down to this: that all life is interrelated." ~ Dr. Martin Luther King, Jr.
In the spring of 1970, Senator Gaylord Nelson created Earth Day as a way to raise awareness of the importance of conservation. In its first year, 20 million Americans celebrated Earth Day.
Nearly 50 years later, Americans have conquered many of the environmental and public health challenges we've faced: acid rain, leaded gasoline, air pollution, and more.
This Earth Day, let's celebrate our successes while we continue to protect our natural resources! You can do your part to Take Care of Texas by taking the pledge. The Take Care of Texas pledge is simply a commitment to conserving water and energy and keeping the air and water clean.