Brand New Publications
Take Care of Texas offers a wide array of FREE publications that are great to use in the classroom. We have many types of publications that appeal to students of all ages, including coloring books, posters, infographics, and stickers! We encourage you to order our printed materials for your class, school, or event. All of the materials are also available as PDFs, making them easy to project on your classroom whiteboard or print and copy for distribution. We recently released three brand new publications—be sure to check them out! 
How to Stay Safe in a Flood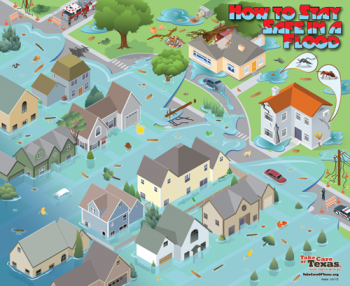 The How to Stay Safe in a Flood poster illustrates some of the various hazards that can be present during or after a flood. The colorful poster shows a Texas neighborhood that has recently experienced a significant flooding event. Turn it into a fun activity by having the students search the poster to see if they can identify all of the hazards in the scene. 
The back side of the poster includes fill-in-the-blank and matching activities relating to flooding. These activities will also educate students about some of the ways they, along with their family, friends, and neighbors, can stay safe if a flood occurs in their area. 
Six Driving Tips to Save You Money and Keep the Air Clean
This handy infographic offers simple, practical tips for maximizing your gas mileage. These basic vehicle maintenance and driving tips can help drivers save money and help keep the Texas air clean. This is great information to share with new or soon-to-be drivers! Students may also be interested in visiting our Teen Driving Tips page, full of information specifically aimed at new drivers. 
This publication is dual-sided in English and Spanish. 
Conserve Water. Every Drop Counts.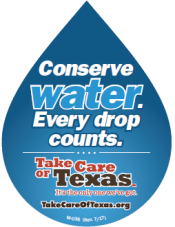 This sticker is in the shape of a water droplet and includes a simple message to remind all Texans to conserve our water. There are many ways for students to display these stickers, including water bottles, laptops, notebooks, binders, and more! 
If you want a reminder to display right above the sink, check out our Water Conservation Mirror Cling instead. This vinyl static cling is designed to easily peel off a mirror with no damage. 
All of these publications can be ordered at no charge! Simply visit the Take Care of Texas website to request or download your publications.