Bike to School Day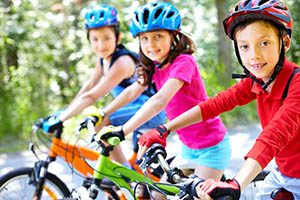 Each year, parents, educators, and students across Texas participate in Bike to School Day as part of National Bike Month. This event is an easy way for students and families to try biking to school and it encourages more biking throughout the school year.
There are tons of benefits to biking. On a bike, you might notice the things that you don't see while driving. For example, you can connect with your neighbors or listen to the birds. It also incorporates regular activity into your life, which lowers the risk of chronic diseases. By hopping on a bike, you'll also reduce vehicle emissions, which helps to keep our Texas air clean. Plus, when more people walk or bike instead of driving, it reduces traffic congestion. And you'll save money by using less gas.
Interested in getting involved? Plan a Bike to School Day event for next year. There's also a Walk to School Day on October 4. Check out the Walk & Bike to School website to learn more about these events. However, you don't have to wait to start making a difference. Check out these ideas to start walking or biking tomorrow!