Become an Eco-Friendly Reader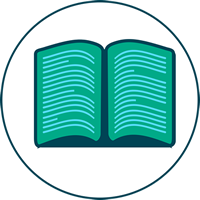 Are you a book lover but you're not sure what to do with that pile of books in your house? Don't throw them away! Celebrate National Book Month with easy tips to help you become an eco-friendly reader. Whether you have used books to get rid of or you are searching for some great new reads, there are many ways you can help reduce waste. Plus, you may be able to save some money along the way! 

Donate Books
If your bookshelf is full of books that you are no longer reading, donate them to a local library, school, or charity. This keeps books out of our landfills and gives others the opportunity to check out some great titles. 
Sell Books
You may be able to make a few extra dollars by selling your used books to certain booksellers. Students can also sell textbooks back to the campus bookstore or to other students. 
Trade Books
Consider hosting a book swap with your friends. Have everyone bring a box of used books and trade amongst yourselves. You'll have the opportunity to read new books without spending more money. 
Recycle Books
Sometimes books can become so old and worn that nobody will be able to get good use out of them. If this is the case, it may be time to dispose of them. Some local recycling programs allow you to put paperback books into your curbside recycling bin. Always check with your local government or recycling program to confirm. 
Borrow Books
Instead of purchasing new books at the bookstore, consider borrowing from your local library. This will allow you to check out many different books without a financial commitment. 
Purchase Used Books
Visit used bookstores or garage sales to find used books. These pre-owned copies are typically cheaper than new copies. 
Download E-Books
Rather than buying physical copies of books, you can cut back on paper use by downloading e-books on your tablet, phone, or computer. Plus, you'll be able to read on the go without carrying a book around. 
Download our infographic to share with your fellow readers during National Book Month!